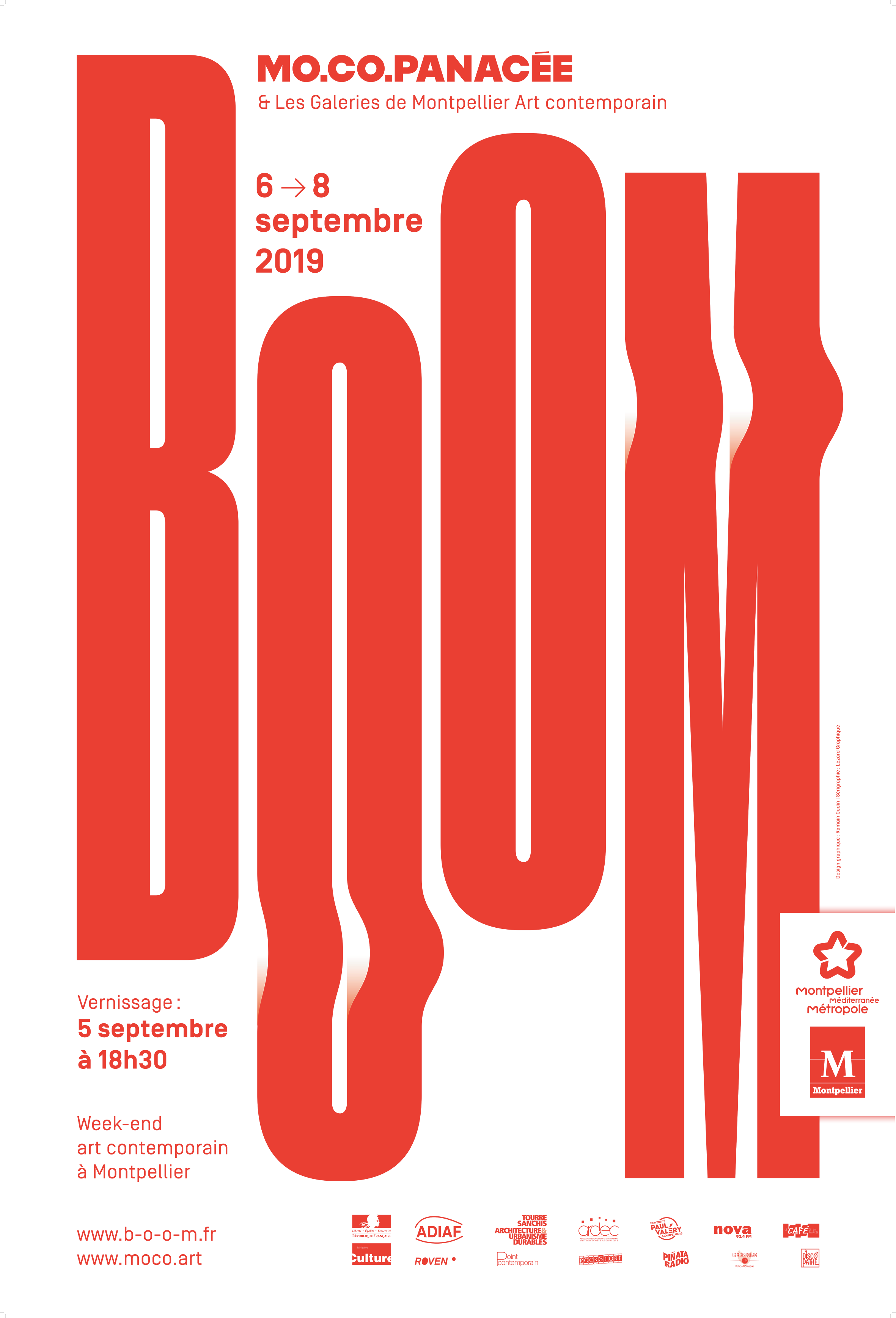 Du 6 au 8 septembre 2019
MOCO Panacée & galeries d'art à Montpellier
Accès libre et ouvert à tous
BOOM | Week-end of contemporary art in Montpellier
For its 10th edition in 2019, Drawing Room evolves and becomes BOOM. From September 6 to 8, this new weekend of contemporary art organised by MO.CO. and the LGDMAC association proposes an exhibition itinerary in the contemporary art galleries of Montpellier and an exhibition of works by young graduates from various Superior Fine Arts Schools in France at MOCO Panacée.  
PROGRAM:
THURSDAY, SEPTEMBER 5
6:30pm – Exhibition opening
Presentation of the BOOM Tourre Sanchis Architecture Prize, with the support of the ADIAF.
8pm - Performance by Nicolas Fenouillat.
> MOCO Panacée – free entry
FRIDAY, SEPTEMBER 6

6pm to 9pm – Exhibition openings of works by Abigaël Frantz & Basile Ghosn (winners of the Tourre Sanchis Architecture / Drawing Room 2018 young creation grant).
> Espace Saint Ravy, AL/MA, Aperto, Chantiers Boite Noire, Iconoscope, La Jetée, and Vasistas galleries – free entry
9pm to 1:30am - "Arty Party" in partnership with Radio Piñata, Le Discopathe and Les Frères Poulards.
SATURDAY, SEPTEMBER 7
9pm - Concert by Jean-Luc Verna and his band I Apologize
> Rockstore Montpellier – free entry, with respect to maximum capacity 
SUNDAY, SEPTEMBER 8
4pm – Roundtable "Entrer en collection" with Nathalie Moureau, vice president of Culture at the Paul Valéry Montpellier University 3 | Caroline Bourgeois, art advisor and curator | Etienne Cuenant, surgeon and collector | Florence Bonnefous, gallery owner, director of Air de Paris
In partnership with the Paul Valéry Montpellier University 3
> Auditorium at MOCO Panacée – free entry
Read more about  BOOM or discover all of our events