MOCO Montpellier Contemporain is an arts ecosystem, ranging from arts training related activities to art collections. The model is unique to Montpellier and encompasses two exhibition centres and an arts school: l'Hôtel des collections, an exhibition centre for public or private international collections, La Panacée, contemporary art centre and ESBA (Montpellier Art School).
MOCO ESBA, a pilot school with an international repuation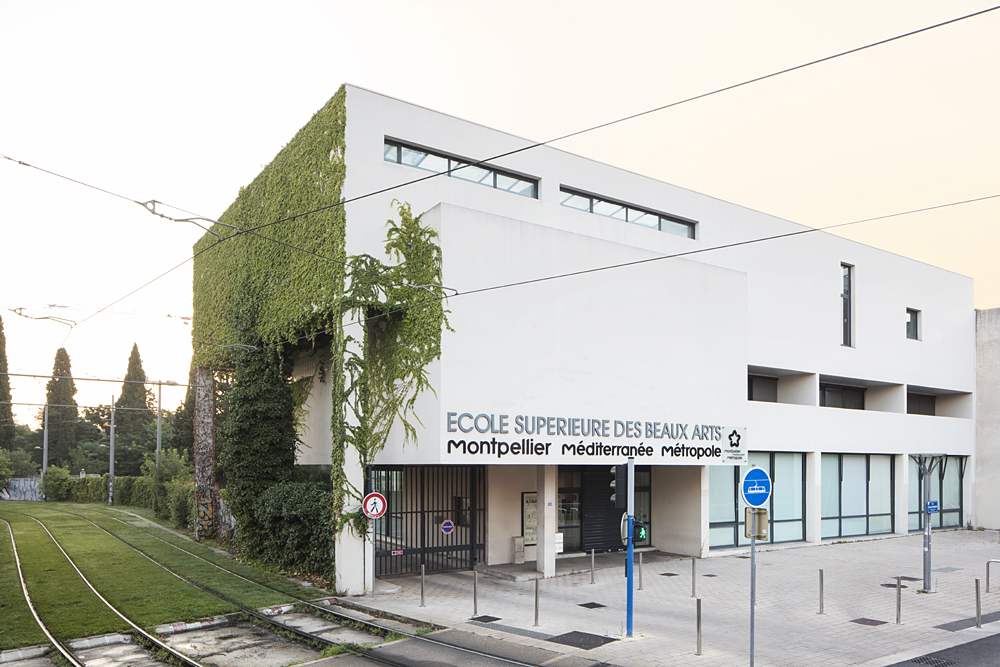 Montpellier Art School (ESBA) is a higher education institute, which awards the three-year National diploma of Art  (DNA), and the five-year Higher National diploma, or Masters,  in Artistic Expression (DNSEP). MOCO ESBA trains artists,  designers and professionals in the field of contemporary art. 
Now part of MOCO public cultural cooperation institute, ESBA —Montpellier Art School, is a school of excellence, resolutely international in its vision. The school offers students total immersion in the MOCO project. 200 new students will join the ESBA in autumn, 2018/19. The school has just received a record number of applications—300 files for 50 first-year admissions. For the first time this year, 100% of all ESBA students have decided to continue studying in Montpellier. The dynamic curriculum provided by a teaching staff of 22 artists and multiple guest lecturers (artists, curators or critics), stimulates students in developing their singularity and creativity. Students are immediately encouraged to be creative and outreach at national and international levels. 
A vibrant artistic hub in synergy with the two MOCO exhibition venues.
Since 2017 and the creation of the MOCO, the curriculum has been revised to bring students fully into the life of the centre, by encouraging participation in activities at La Panacée and the MOCO Hôtel des collections (the two exhibition venues of Montpellier Contemporain): 
 Meetings and workshop visits to the school for students in grades 4 and 5 organised with the artists, curators and critics, invited by the centre of contemporary art.
A wide program integrated into the students' curriculum, of conferences, round tables and projections at  La Panacée.  
Internships for all 2nd and 4th year ESBA students in the programming department (exhibitions / mediation), technical or communication teams. 

Artists, curators, art critics and art professionals invited  by the MOCO for exhibitions, artistic residencies or cultural projects will also fully engage with the ESBA students.  Two major educational programs have been set up to promote experience sharing, meetings and collaborations  with professionals from the world of art:
 A curator invited for the year to the exhibition  of ESBA graduates:  After Bernard Marcadé, who was invited to work with the 5th year students on the exhibition Kermesse in 2018 at La Panacée, it is now Stéphanie Moisdon's turn to work with ESBA future graduates this year on a unique new concept for the 2019 exhibition. She will also participate in the work to be produced by the MOCO in order to provide young artists with critical texts on their work and an essential tool to launch their careers in the professional network of contemporary art.

An artist invited for the year for an artistic project  with students:  In 2017/18, British art activist, Bob & Roberta Smith, was invited by La Panacée to conduct a series of workshops  with students as well as an exhibition in the ESBA gallery.  
In 2018/2019, Fabrice Hyber is working on a specific in-situ project via meetings, co-construction and workshops with students and the MOCO team.
A university residency within an art centre, in partenership with the CROUS
The only art centre in France to have a university residence,  La Panacée welcomes 59 art students each year. The apartments, managed by the CROUS and located within the art centre itself, are half occupied by ESBA students, allowing them to fully immerse themselves in the artistic life of the venue, through projects developed with the MOCO public department. The program "Rooms with views", for example, offers them carte blanche to design a special event, in connection with the  summer exhibition of La Panacée.
Launch of a postgraduate program to support MOCO ESBA students on an international curriculum.
 
Season 6 : an original new graduate diploma
As part of its international development, in 2018, Montpellier Contemporain created an innovative system of international art and research residencies for 6 ESBA graduates. After obtaining their DNSEP, graduates have the opportunity to apply for SEASON 6 program. The 6 young artists selected will then develop their artistic practice for a year and build a professional network through involvement in major artistic events. The program revolves around participation in the MOCO partner biennales  and major international exhibitions.
For the 2018/2019 year, SEASON 6 will be held at the KochiMuziris Biennale in India in 2019, the Venice Biennial in Italy and the Istanbul Biennale in Turkey, in 2020. (Program  supported by the French Institute).
6 award winning artists in 2018-2019: Nicolas Aguirre, Geoffrey Badel, Mona Kim, Corentin Mestre, Quentin Helgouach and Chloé Viton.
6 Artistes lauréats 2018-2019 :

Nicolas Aguirre, Geoffrey Badel, Mona Kim, Corentine Le mestre, Quentin L'Helgouach, Chloé Viton.