MOCO Montpellier Contemporain is an arts ecosystem, ranging from arts training related activities to art collections. The model is unique to Montpellier and encompasses two exhibition centres and an arts school: l'Hôtel des collections, an exhibition centre for public or private international collections, La Panacée, contemporary art centre and ESBA (Montpellier Art School).
MOCO off-site: territorial, national and international partnership projects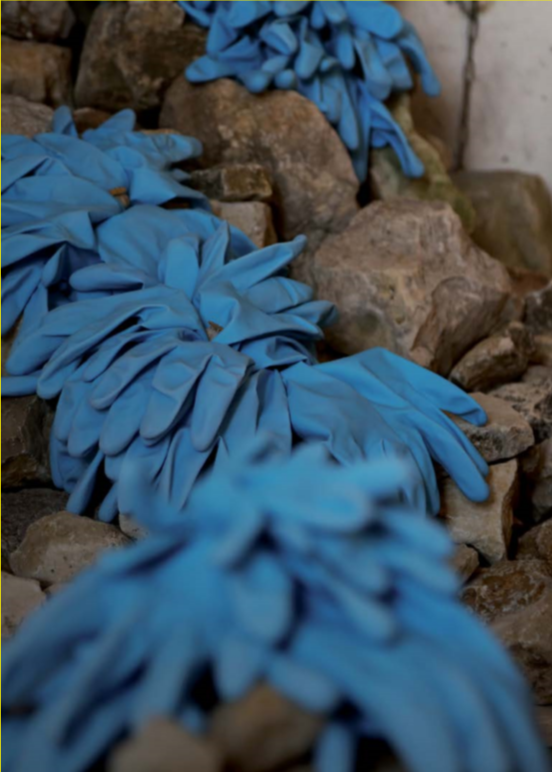 Montpellier Contemporain, a synergy tool open to the city, helps to position Montpellier and its territory as an active artistic place to be. Since 2017, the establishment has been developing numerous artistic cooperation projects with sites and players of the contemporary art scene in France and abroad.
Since 2018, two new partnership projects for artistic, curatorial and exhibition residencies have been set up, one locally and the other internationally.
Archaeological site, the Lattara Henri Prades Museum in Lattes, Artistic residency and exhibition of a contemporary artist at Lattara
Each year, an artist is invited to compare his/her personal research with the excavation of an archaeological site and museum, as part of an artistic residency and exhibition.
Lattara and MOCO Montpellier Contemporain set up an annual partnership in 2018, including a period of artistic residency and the realisation of an exhibition in Lattes supervised by teams from the two institutions. Each residency also allows the public to meet the artist and discover his/her work during a conference at La Panacée. It is also a real opportunity for some of ESBA's  4th and 5th year students to meet and converse individually with artists, on their respective practices.
In 2018, the artist proposed by the MOCO Montpellier Contemporain, Raphaël Zarka, was invited to place his singular vision on the museum's archaeological collection. As a researcher, he seizes an object and explores it from all dimensions, references and filiations, to extract the essence that he (re)fills with meaning. Following his residency in Lattes, the artist launched the exhibition Spolium (from 13th October 2018 to 18th February 2019,) which shows a set of sculptures produced specifically for the project, in resonance with past civilizations, as recurring components of forgotten alphabets.
The partnership is set to continue into 2019, with an invitation to Benoît Maire to attend a residency and an exhibition for Lattara, from September 28th 2019 to February 17th 2020.
La Fonderie darling, Montreal (Canada), Joint Residency between young Canadian curator/young French artist from ESBA
 For the past two years, Montpellier Contemporain has organized, in partnership with La Fonderie darling in Montreal, an annual residency in Montpellier for a Canadian curator. Following an initial one-month residency in October, organized by La Fonderie darling with the support of the French Institute during the FiAC in Paris, curators Zoé Chan and Carina Magazzeni came to stay in the MOCO in November 2017, and 2018. In 2019, La Fonderie darling and Montpellier Contemporain will enhance the partnership further, towards a cross-residency program:
 A Canadian curator will reside for two months in France, 1 month in Paris during the Fiac and 1 month in November, at the MOCO, Montpellier
A young ESBA artist, graduated for a maximum of 3 years, will benefit from a 3-month art residency at La Fonderie darling in Montreal (call for applications, selection made by a jury of partners and professionals).  
The program of the Fonderie darling in Montreal and MOCO Montpellier Contemporain is supported by the Canadian Cultural Centre, the French Institute and the 'Fondation  des artistes'.
Alumni: new partnership programs to aid and support young artists  from MOCO ESBA
Castle Capion, Aniane
Located on the Hérault Wine Route, which has acquired a solid international reputation, Château Capion, owned by Oleg Chirkunov and managed by Rodolphe Travel, plans to open the site to artistic and cultural activities. 
Since 2018, Montpellier Contemporain and Château Capion have joined forces to launch a strong original partnership  to support young and locally trained artists. The creation of an original annual art residency program between a public contemporary art establishment and a private winery, allows young artists from ESBA, whose work is still little known or disseminated, to develop a research and production project , thus gaining visibility locally, nationally and internationally, through  a summer exhibition at Château Capion. 
After Chloé Viton's residency and exhibition Métamorphes Primitifs in 2018, Baptiste Rocca, artist from MOCO ESBA,  will reside in April and exhibit in the summer of 2019. Post-Production – program organised by the art schools  of Montpellier (MOCO ESBA) Nîmes (ESBAN), Pau-Tarbes (ÉSA Pyrénées) and Toulouse (ISDAT), in partnership with the  FRAC Occitanie Montpellier (FRAC OM), dedicated to the professional and artistic integration of young graduates. 
Post-Production consists in supporting four young graduates with DNSEP from partner institutions, on a career path in the professional art environment, including a period of artistic production and exhibition. The support includes critical exchange and a collective exhibition proposal. 
Mulhouse 09 Biennale of Contemporary Art: MOCO ESBA participation in "Mulhouse 019", from June 8 to 11 2019
The City of Mulhouse is organizing a biennale of contemporary art for young artists from French, German, Italian and Swiss Art Schools. The event aims to present and promote young contemporary creation on a European scale, in partnership with  Basel International Fair, Art Basel and the Ministry of Culture.
The aim of the event is to bring together European art schools for an exhibition, and to ensure the representation and promotion of artists on a national and international scale, on the  side lines of one of the most prestigious arts events of Europe, the Basel Contemporary Art Fair
Artist proposed by ESBA for «Mulhouse 019»: Noemi Heinrich
In addition, the MOCO also supports young artists and groups of young artists from ESBA, with partner locations for residencies, exhibitions and productions such as:
The Invisible Films for Ekiem Barbier's film, Quentin L'helgoualc'h & Guilhem Causse, Knit's Island (which follows Marlowe Drive made during their studies at MOCO ESBA on of 2018, and the development grant of the CNAP and the CNC (DICREAM), of the Occitanie region and EDIS endowment fund.