23 day(s) before the end of the exhibition
MO.CO.
13 rue de la République, Montpellier
From July 8 to October 15, 2023
Opening on July 7, 2023, from 6 to 9 pm at MO.CO.
Neo Rauch
The Dream of Reason
From July 8 to October 15, 2023, the MO.CO. is organizing the first French retrospective of the painter Neo Rauch.
Born in 1960 in Leipzig, the painter Neo Rauch is considered one of the greatest contemporary German artists, noted as a figure surrounded by an aura of legend and mystery. His work, globally acclaimed, has influenced a generation of European painters, especially in France, who discovered him at the beginning of the 2000s. Molded by his artistic education in East Germany—behind the Iron Curtain—and later associated with the emergence of the New Leipzig School, Neo Rauch has developed a singular style: figurative and seemingly narrative but altogether resistant to easy interpretation.
Enigmatic and ambiguous, Neo Rauch's paintings require long, slow viewing to appreciate their complexity of composition, games of scale, and abundance of symbols. They forge unexpected links between periods and places, history and the present, and depend on references to the Italian Renaissance, German Romanticism, and Socialist Realism. Practicing a "dreamlike" mode of painting in which he freely assembles scenes and allusions, Neo Rauch offers the spectator multiple, idiosyncratic reflections on history, heritage, the power of art, the role of the artist, and the impasses of our contemporary society.
The ambitious MO.CO. exhibition brings together a hundred works by the artist, including more than forty paintings, often of impressive scale. Titled The Dream of Reason—in reference to Goya's El sueño de la razón produce monstruos, which has particularly inspired Neo Rauch—this retrospective traces the unique and unusual career of the painter from the early 1990s to the present. Starting with an ample selection of drawings and watercolors, the exhibition extends over the three levels of the MO.CO., presenting major paintings on loan from collectors and museums worldwide. Many of the works have never before been shown in France. The exhibition will be accompanied by a catalogue, the first French publication on Neo Rauch, including an interview with the artist.
Visuel : Herkunft, 2019 [Origine / Origin]. 100 × 300 cm, Huile sur toile / oil on canvas. Droege Art Collection. © Neo Rauch, ADAGP, Paris 2023. Photo: Uwe Walter, Berlin. Courtesy of the artist, Eigen + Art Gallery, Leipzig / Berlin and David Zwirner
Curator
Under the general curatorship of Numa Hambursin, general director of the MO.CO.
Pauline Faure, senior curator
Assisted by Deniz Yoruc and Julie Chateignon.
Catalogue
Neo Rauch. The Dream of Reason. Bernard Chauveau Editions
Texts : Numa Hambursin ; a Neo Rauch interview conducted by Hélène Trespeuch.
French and English version. 152 pages, 30 Euros.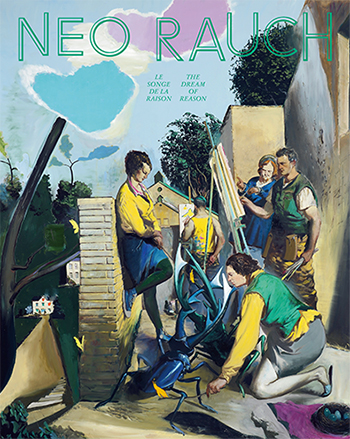 Documents