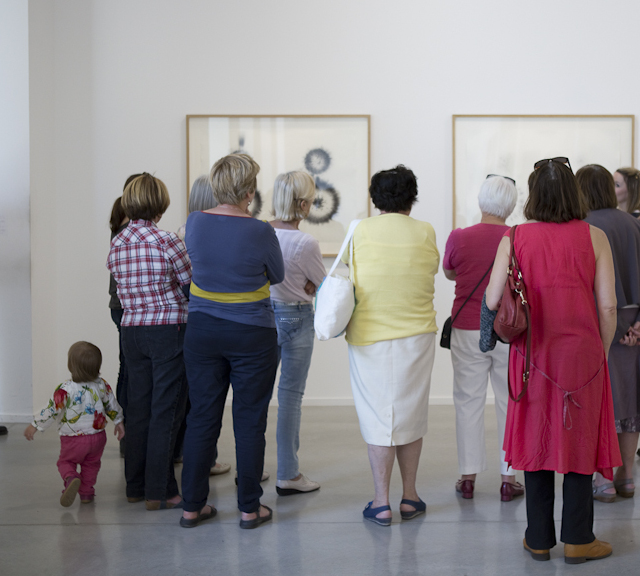 Each week, the mediators of MO.CO. propose tours of the exhibition, including but not limited to weekly tours, surprise visits or combined tours.
MO.CO.'s cultural mediators are available to respond to any questions you may have or to discuss the art works. Art historians, artists or professionals from diverse backgrounds, our cultural mediators make it their mission to share their knowledge of the art works and provide the key to understanding the exhibitions.
All guided tours and workshops are conducted in French.
You can book a tour in English by writing to us at mediation@moco.art
MO.CO. Tours
Regular tours
Informal and friendly tours of the exhibitions
> Generic guided tours from Tuesday to Sunday at 5pm, at MO.CO. 13 rue de la République, Montpellier
> Generic guided tours from Wenesday to Sunday at 3pm, at MO.CO. Panacée 14 rue de l'Ecole de Pharmacie, Montpellier
Free upon presentation of your entry ticket at MO.CO., free at MO.CO. Panacée 
Focus tours
Every Friday from 12:30pm to 1pm, a mediator re-introduces the exhibition via a selection of works.
> MO.CO. Panacée
Free
A certain perspective
Guided tours by the curators of MO.CO.
A tour proposed by the curator of the exhibition.
> MO.CO. : entry ticket, on registration
> MO.CO. Panacée : free access, on registration
Point-of-view tours
The MO.CO. gives free reign to guest speakers to interpret the exhibition in their own way.
> MO.CO. : entry ticket, on registration
> MO.CO. Panacée : free access, on registration