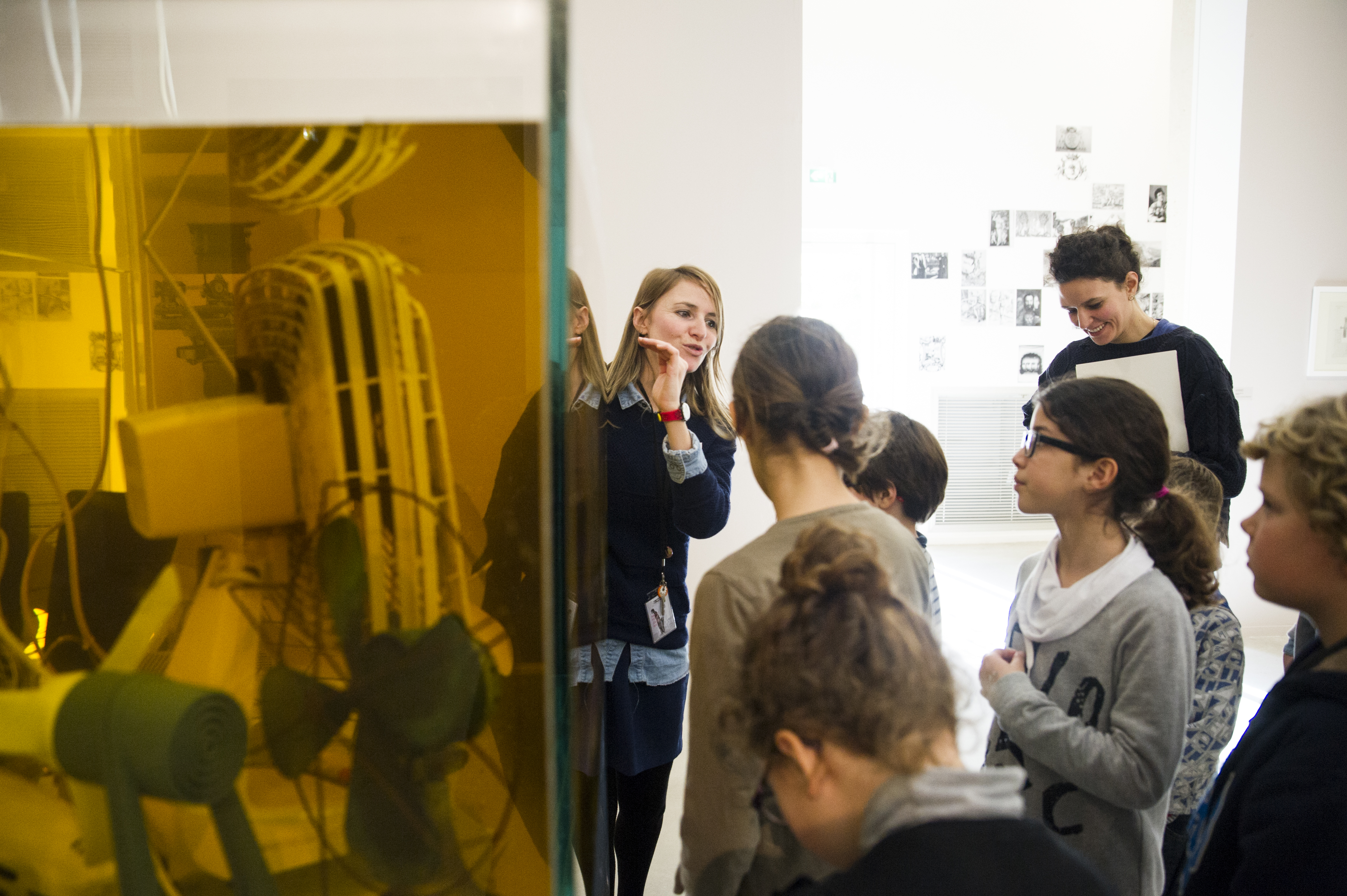 Montpellier Contemporain is a select educative partner of schools from kindergartens to universities. MOCO encourages its public to engage in encounters and exchanges about art to better understand the content matter.
There are many possibilities and across various sites. The MOCO reunites various locations, proposing tours both at MOCO Panacée and at MOCO Hôtel des collections.
The tours
The education service proposes differents kinds of tours, adapted according to age. From the « studio-tour », for kindergartens and primary schools, to the « active tours » tailored to middle schools, each type of tour is conceived as a moment of apprehension of the works, of discovery and exchanges.
You will find all the different kinds of tours available in the educational folder.
Help with projects
Whether it is with artists in residence, in encounters or during workshops, the education service creates projects with teachers consistent with the pedagogical streams and the disciplines.
We invite you to send us a request to create projects together based on the exchange, the discovery and the practice. Make your appointment by writing to: mediation@moco.art
Structures
MOCO is inscribed in different local and national educational structures: classes et PAC, AET, Territoires of contemporary art, « La classe, l'œuvre ! » (in the frame of la Nuit Européenne des Musées)
The visiting teacher
At every new exhibition, this visit is a privileged moment to re-discover the works and have an exchange on their possible specific educational use.
Next tours:
Discover the Hôtel des collections

Wednesday 25 September at 2pm and Friday 27 September at 6pm

Exhibition tours at la Panacée

Wednesday 9 October at 2pm and Friday 11 October at 6pm
Tours are free but subject to reservation: mediation@moco.art
The educational folder
Aimed towards teachers and group supervisors, this folder will help clarify the works and the issues discussed in the exhibition.
Rates and benefits
Tours are free for all scholastic establishments in the city of Montpellier as well as in the frame of certain specific projects.
The tours at MOCO Hôtel des collections are subject to a special rate for establishments outside of the city. A card (30euros) grants access to tours for all classes from one establishment during a full school year. All tours at MOCO Panacée are free.