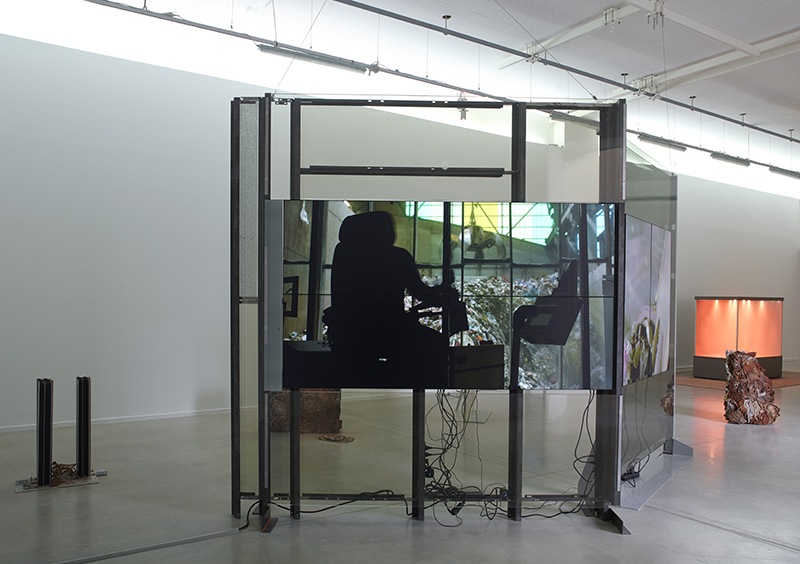 Eloise Hawser
How does your installation reach out of its original context? What does it say about the current political situation on a larger scale ?
My film and sculptural works are site-specific responses to waste management facilities in the UK and Istanbul. These sites are not 'contexts' in the ordinary sense – they're nearly always hidden from view and don't have any clear sense of 'place' to them. My work tries to extract some sense of 'context' from these huge, impersonal sites. In my film piece, I attached a camera to a petal claw as it sifted through a vast landscape of refuse formed in the site's 'tipping hall'. My sculptures, meanwhile, are composed of material I have arrested from the recycling process. The subsequent close-up inspections of waste draw out the presence of former usages and human gestures, tracing flashes of 'place' otherwise churned into anonymous refuse.
I had a surprising experience filming at these sites. The architectures and machinery across both the UK and Turkey are near identical, while the waste itself and some of the hidden processes involved are far from uniform. Despite these sites treating waste as an indeterminate 'raw material' to trade, scrutinising it through a more artistic lens reveals its political resonances about local and international movements. We know in Istanbul, for example, casual street 'pickers' influence the composition of material being distributed to the city's waste management facilities. These two streams have recently converged in an international market of waste, with Turkey now being one of the UK's largest importers of waste material.
Your work explores heavy human activity and the impact it has on natural ecosystems, to the point of a complete substitution. Put in perspective, would you agree with Lavoisier's principle that « nothing is lost, nothing is created, everything is transformed » ?
One aim of my work is to capture some of the processes and spaces mediating our management of waste. Natural ecosystems are inevitably impacted – pollution and landfill are the most obvious examples. The scale of infrastructure involved in this management, however, suggests its own sense of an ecosystem – the movement of waste is now global, rhythmic, and impersonal. Our name for the mass of waste floating in the Pacific Ocean is even quite naturalised, the famous 'seventh continent'. It's not clear to me, however, if Lavoisier's principle is helpful for thinking about this 'ecosystem' and its 'continent'. It seems to me question of climate change concern what engineers call 'critical mass' – a process growing so large and so complicated it can no longer be managed without a complete re-configuration.