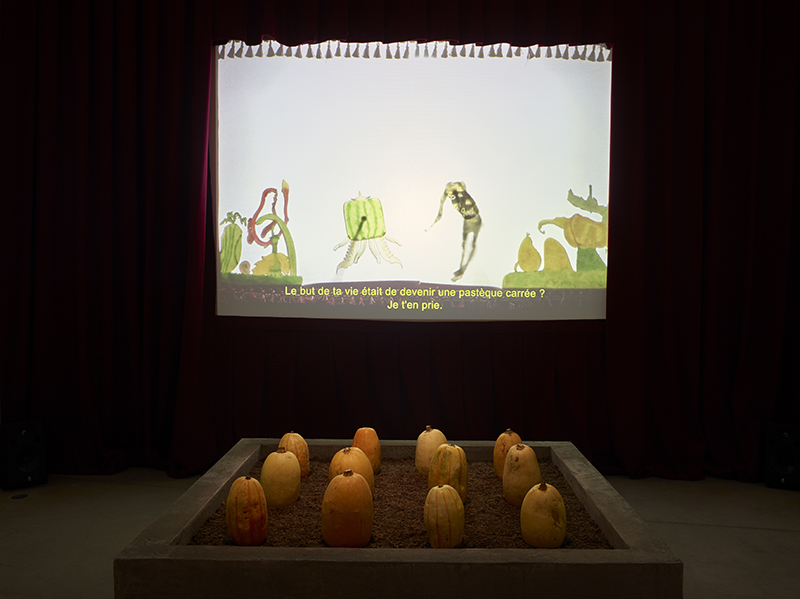 Max Hooper Schneider
What drew you to work with puppets ? What do they symbolize ?
The decision to work with puppets does not derive from a consideration of what they might represent or symbolize, but rather is sourced from a commitment to employ endemic materials. The puppets are constructed of indigenous materials (cow hide, vegetable pigments, etc.) and their performance mimics an indigenous structure of storytelling. Similarly, the soundtrack by 'Necrophagist' suggests a highly engineered sonic mode of storytelling that can be considered indigenous to contemporary Turkish culture. My intention was to bring traditional puppetry and contemporary music together as a novel form of 'nature' theater. The installation is conceptualized as 'nature naturing'. The puppets, like the music, are nature rather than representations or symbolizations of nature.
Do you think man is destined to mutate in order to survive ?
The illusion modern humans have sustained regarding their situation vis-à-vis nature—i.e. they stand apart from nature and are its master—is one I have contested in my works. This has involved a rejection of the notion of a hierarchy of beings and its replacement with the concept of a democracy of beings. The state of the planet Earth at present suggests that non-human life forms will come to dominate and that humans will either become extinct or evolve into new forms in order to survive.