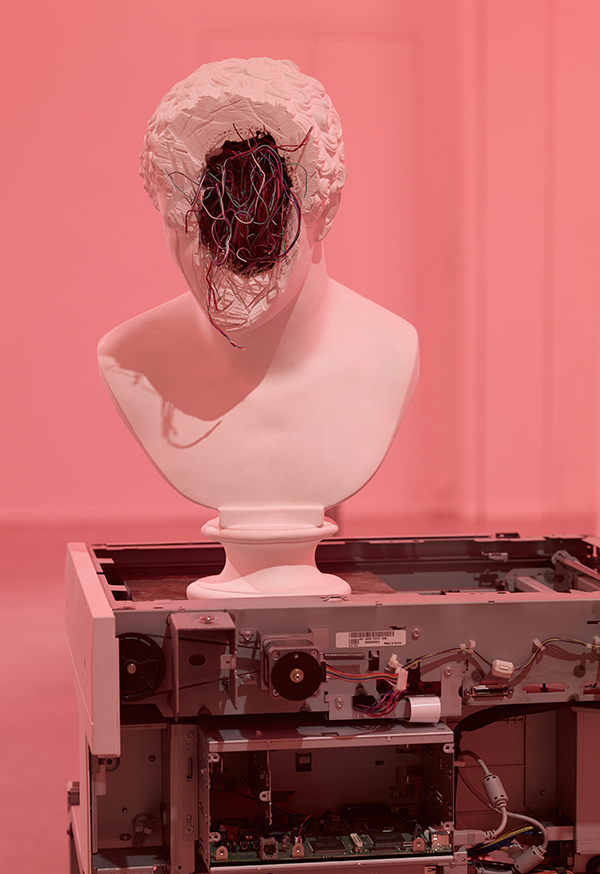 Nicolás Lamas
You take different objects that could be found in our direct environment and that you bring together to create new narratives. Do you feel that your practice relates to the ones of the collector, sociologist or the archaeologist ?
I think it's a mix, but I see my work being closer to archeology. One of the features that interests me most in archeology is that it deals primarily with objects affected by time. I am also interested in the way in which our interpretation is susceptible to a large margin of error and speculation when insufficient data is obtained.
I find the possibility of shaping the past fascinating: filling the loss, focusing on missing information. This can be addressed by exploring the vestiges and fragments that resist their imminent disappearance. I am interested in the possibility of obtaining information through different types of technical procedures that constantly help us to rewrite the past. I also see it as a potential for imagining possible futures.
Another interesting characteristic in archeology is the obsessive approach to reveal, classify and organize everything that has lost structure and symmetry through processes of wear, decay, fragmentation and dispersion. Material flows that tend towards chaotic states over time. A confrontation between opposing forces: contention and overflow in constant negotiation. In order to put emphasis on this confrontation, I usually use structures, shelves, reticles, containers or elements that form regulation areas, where different entropic processes coexist and interact on different levels. I'm interested in everything that breaks a system's balance, offering alternate readings beyond an anthropocentric point of view.
Would you consider your work as an attempt to provoke collisions and create links between elements irremediably doomed to disappear?
I am enticed by the transformation of an object during its useful life, from when it was created until it finally disappears or is recycled as material that will possibly shape other objects. So I think that objects are not just what we think they are. They are not only passive elements that exert a specific function during a determined time but also are active entities that affect the contexts and lives of other beings, creating complex dynamic processes as they are transformed and spread throughout the world. Despite being inert entities, if we think of their emergence, mobilization, grouping, degrees of transformation and other characteristics throughout their existence, these patterns remind me of the dynamics that govern the existence of certain living organisms. They have a different "vitality". Inert bodies or the decomposition of organic materials also acquire a series of changes and dynamics despite their apparent inactivity. Energy is always conducted and released while bodies and things change shape and physical condition. In the end everything transforms and moves, everything is in transition to another state or level. In that sense, links between the living and the inert, the unique and the massive, the organic and the synthetic, the material and the virtual, the soft and the hard, the warm and the cold or the human and the non-human, are of greater relevance within my work.