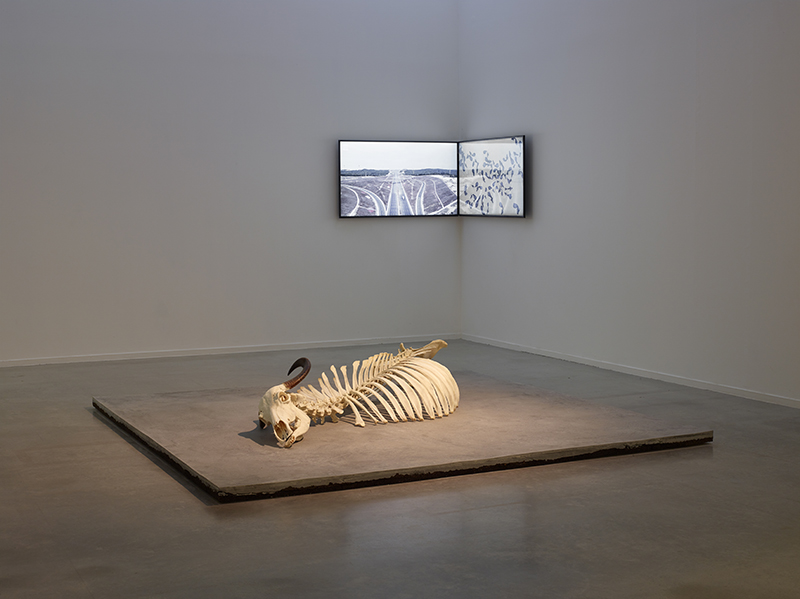 Ozan Atalan 
Né en 1985 à Gelibolu (Turquie). Vit et travaille à Istanbul (Turquie).
Ozan Atalan
In your work Monochrome, you clearly make a reference to the destruction of nature by humans. Is this relationship recurrent in your practice ? By presenting this bull's skeleton, do you rather imply to give a vision of the future, or rather reflect on our present / past? What is your perspective on the capitalocene concept ?
In my work, I deal with hybrid forms of natural and cultural evolution and speculative realities that resist the culturally constructed dualities framing our perception of life. An anti-anthropocentric approach has always dominated my practice, which explore human nature specifically through the scope of alienation. In an era when we are being alienated from our true selves and from nature because of contemporary existentialist anxieties, my major concern is to work to counterbalance the outcomes of this alienation, being : loss of sense of reality, emotional and conceptual blocks in our relation with the world, human-nature duality…
The Planet's history and future cannot only be understood in the way the wilderness keeps its own biological, physical, chemical and geological record, but also by the anthropological impact on it.
Therefore, the speculative dimension of my aesthetics can be considered to be simultaneously retrospective and futuristic. In this way, buffalo's skeleton is intended to be an excavation of humanity's present approach towards the world for the future.
When we talk about human impact, it inevitably includes economic and political systems that unfortunately use the world's resources to the detriment of the non-human beings. This reinforces the binary separation between 'me and the other'. This segregation applies itself to the human-world gap as well as to inequalities among people. Regarding all these, the capitalocene refers to a world being sacrificed for the sake of pseudo-sanctitude of private profit above ethical concerns.