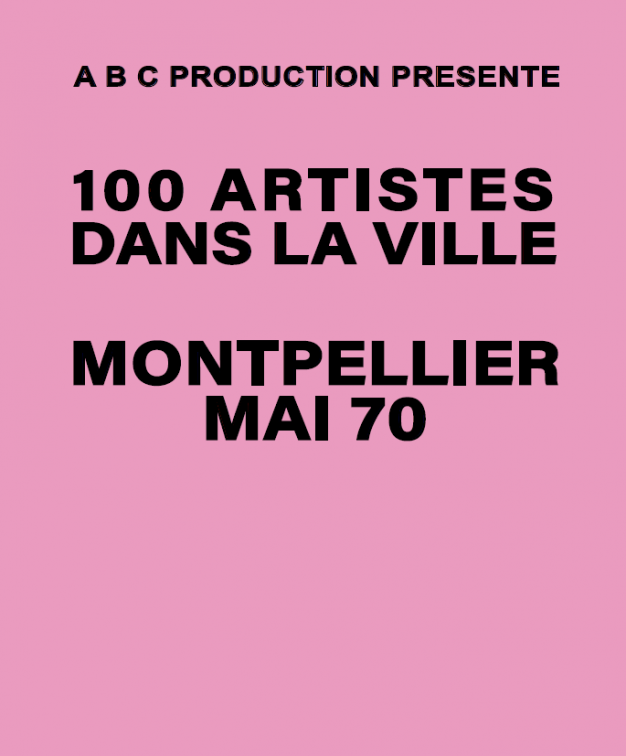 18:30
Auditorium, MO.CO. Panacée, 14 rue de l'Ecole de Pharmacie, 34000, Montpellier
Free access
Between June 8 and July 28, 2019, the city of Montpellier presents a unique Temporary Artistic Zone (ZAT) to mark the opening of MOCO, the only contemporary art center to open in Europe this year.
100 artists in the city – ZAT 2019 takes as its starting point a project that was initiated by a group of Montpellier-based artists, ABC Productions (Tjeerd Alkema, Jean Azemard, Vincent Bioulès and Alain Clément), who, in 1970, organised a large-scale exhibition across the city.
On Thursday, June 6, a round-table discussion about the history of the project, 100 artists in the city, May 1970, will take place at La Panacée, in collaboration with the Musée Fabre. Speakers include Vincent Bioulès, Alain Clément, Noël Dolla, Daniel Dezeuze and Henri Talvat.
The round-table will be moderated by Stanislas Colodiet, Curator of Mid-19th Century to Contemporary Art, and Head of Multimedia Services at the Musée Fabre. They will be joined by Manon Gaffiot, author of "100 artists in the city, Montpellier, May '70. The outcome of public engagement". This meeting pays tribute to the artists of this first edition, and to the members of ABC PRODUCTION who initiated the project.
Free entrance (number of places is limited)
For further information, please visit www.zat.montpellier.fr